IN PROGRESS
I'm huddled by a heater on a cold, damp day in Boulder, Colorado, wondering what it's like to be in Rajasthan, India, where temperatures are at record highs. I imagine bodies slowing to a near halt. Schools shutting down, people collapsing of heatstroke and shoes melting into the pavement.
The heat has been so extreme that a camel bit off the head of its owner after being tied all day in the scorching sun. It took 6 hours to calm the camel down. Such is the desperation caused by heat.
My mind goes immediately to global warming. Of course this issue is complex, with so many variables and caveats — and the link between climate change and human behavior seems clear. As summed up by the UN, NASA, EPA and major media, such as the NY Times, "a huge amount of evidence suggests that scientists have the basic story right." No need for statistics and more rhetoric.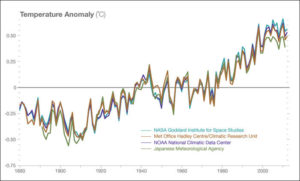 Source
So why bring this up here?
For years, I have been grappling with a single question: What the *blip* to do? And what can really make a difference? I know I am not alone. So many of us are asking similar questions. As individuals, it can be incredibly daunting. The "wicked messes" on our planet can be overwhelming. Climate change. The refugee crisis. The state of our educational and healthcare systems. Racial injustice. Financial meltdowns. Addiction. Thinking about them, I slow my own body to a near halt. No heatwave needed.
And perhaps this is the point. We are dealing with unprecedented issues in the world. Such issues are often described as VUCA: Volatile, Uncertain, Complex and Ambiguous. … Such is the landscape of leaders these days. Which leads me to a point: In my view, we are all leaders. There's no pointing fingers here. We are all involved, all responsible, in some way.
This sense of responsibility propelled me to leave my corporate job — to dive deeply into the realm of adult development as we cultivate the capacity for sustainable change in a VUCA world. I highlight adult development because it has helped me to understand, better than anything else, why some people embrace the need for change and why some resist it wholeheartedly. It has helped me to better understand why some people will fight tooth-and-nail for fundamentalist causes, and why others seek multiple perspectives.
I'm not suggesting that adult development explains everything. No theory can. And it set me on a path of purpose and clarity. Offered a map for the territory into which we have wandered.
I believe that we are in this together. As individuals, we cannot shift our trajectory. We need community.
……..
What matters for you?
In what ways do you find yourself mobilized to do things you would not normally do?